This information is for private adoptions between family members.
• The child to be adopted is related to you by blood or marriage (within 3 levels, usually stepparents, grandparents, great‑grandparents, and aunts/uncles); AND
• If two people are adopting, those two people are married or registered domestic partners; AND
• The child to be adopted is not an American Indian; AND
• If the child is age 14 or older, the child will consent to the adoption; AND
• The parent to be "replaced" through the adoption will either sign a written consent or their parental rights have already been terminated by a court (see information regarding termination of parental rights). 
Nevada law allows for the adoption of both children and adults. Any adult person, or any two persons married to each other, who are at least ten years older than the person sought to be adopted, may petition to adopt a child.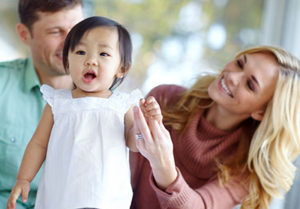 Adoption is the process of becoming a child's legal parent.  Adoption is permanent.  If the judge approves an adoption, the biological parent(s) lose all custody rights to a child.  They will not have to pay child support and will not have any responsibilities for a child.  The adoptive parents will be the child's parents forever, even if they later separate or divorce.
The most common form of adoption is adoption of children by stepparents whereby the adopting stepparent is willing to assume financial and legal responsibility for his/her spouse's child or children and to release their noncustodial parent of parental responsibilities, including child support. The process for stepparent adoptions is faster and easier than other kinds of adoptions in most cases.
Stepparents walk a fine line ‑‑ you or your spouse might live with your stepchildren, provide for them financially and weigh in on tough parenting decisions ‑‑ but when push comes to shove, you're not the "real" parent, and you may want to have your feelings and place in the family reflected legally. The reasons to adopt vary. It may be so a stepchild can receive an inheritance from the stepparent or so they can get health benefits. Other factors driving adoption include a stepparent's simple desire to formalize the relationship and have a say in decisions surrounding education and medical treatment. Some experts suggest that adoption can have a profound effect on the family's cohesiveness and the child's sense of belonging.
In all stepparent adoptions, the consent of the other birth parent is required. If that other birth parent's parental rights have been terminated then that birth parent's consent is not required.
An estranged biological parent may be comfortable giving up their rights because it may mean that they are no longer responsible for child support. Other biological parents may not want to give up their rights, or they may be impossible to locate. Again, if the other birth parent's parental rights have been terminated then that birth parent's consent is not required. A consent is not needed if the biological parent is deceased.
In some instances, it can be challenging to get parental consent to adoption because this means giving up all rights to a child. Generally, a complete termination of parental rights means the biological parent:
• loses the power to make any and all decisions for the child
• gives up all visitation rights and can no longer see or spend time with the child, and
• gives up the right to communicate with the child.
If you have trouble reaching an agreement, or the other biological parent won't consent, you will need to ask the court to terminate the other biological parent's rights. The judge will not allow the adoption to proceed unless there's a valid reason to terminate parental rights.
Terminating a parent's rights means that the person's rights as a parent are taken away. The person is not the child's legal parent anymore. This means:
• The parent‑child relationship no longer exists.
• The parent no longer gets to raise the child.
• The parent usually has no right to visit or talk with the child.
• The parent no longer has to pay child support.
• The parent is removed from the child's birth certificate.
• The child can be adopted without the parent's permission.
Terminating a parent's rights has been called the "civil death penalty" and is taken very seriously by judges. Judges do not terminate a parent's rights unless there is a very good reason.
In Nevada, there are several different reasons a judge can terminate a parent's rights:
• Abandonment. This is behavior that shows the parent intends to give up all rights to the child. Usually, this means that a parent has not contacted the child and has not provided any financial support to the child for at least 6 months without a good reason.
• Neglect. The parent has not properly cared for the child's needs, including providing food, shelter, medical care, education, or any other special care needed for the child.
• The Parent is Unfit. An unfit parent is one who can't or won't provide the child with proper care, guidance, and support.
• There is a Serious Risk of Physical, Emotional, or Mental Injury if the Child is Returned to the Parent. The child would be in danger with the parent.
• Token Efforts. The parent has made minimal effort to support the child, communicate with the child, or otherwise care for the child.
• Failure of Parental Adjustment. If Child Protective Services (CPS) removed a child from the home, the parent only has so much time to correct the reasons that caused the child to be removed. If the parents do not correct those problems within a "reasonable time," the state can petition to terminate their rights.
• Sexual Assault.  If the child was conceived as a result of a sexual assault and the parent was convicted for sexual assault, their rights can be terminated.
 What if There's No Father?
There is always a biological father to a child, even if there is no father named on the birth certificate.  If the father's identity is truly unknown, then you must file a Termination of Parental Rights case naming "John Doe" as the father.  The judge has to be certain that any potential father's rights have been terminated before going forward with an adoption.
ADULT ADOPTIONS
Why adopt an adult?
Adoption is the same legal process whether the individual is a child or an adult. The court issues a new birth certificate for the adopted individual and any existing legal relationships with biological or custodial parents are severed. The adopted adult can change his or her last name, also called a surname change, and all adoption records will be sealed.
The most common reason to adopt an adult is for inheritance purposes. In this case, adult adoption allows someone to leave property or financial assets to the adopted individual more easily.
The second reason, almost as common, is when someone has a relationship with another such as a surrogate parent, someone they've grown up with or a foster father or mother, the adult may want to become legally part of the family. This is frequent in families that are pieced together from different biological relationships. Similar reasons may include when an adopted individual has found his or her biological family. The person may wish to be legally connected to the original father or mother that gave him or her up for adoption. If an adult needs perpetual care, he or she may have diminished capacity, a disability or cannot take care of himself or herself. The caregiver may adopt him or her to ensure he or she is taken care of through the rest of his or her life.
If you are considering Adoption… We Can Help.
DISCLAIMER
Nevada Legal Forms Inc. (dba Nevada Legal Forms & Services) is a document filing service and CANNOT provide you with legal, tax or financial advice. NEVADA LEGAL FORMS & SERVICES IS NOT A LAW OFFICE AND IS PROHIBITED FROM PROVIDING LEGAL ADVICE OR LEGAL REPRESENTATION TO ANY PERSON. We are not your attorney, nor are we your accountant, nor are we a substitute for an attorney or an accountant, or any other professional service provider. Nevada Legal Forms & Services puts forth its best efforts to provide you with accurate and timely information. This information is NOT GUARANTEED to be accurate and should NOT be relied upon for purposes of making decisions that could have a financial or legal impact upon you. As such, the information provided herein is to be solely used as an educational resource and we strongly recommend you to seek the advice of an attorney or tax advisor should you need specific legal or tax advice.